Small Groups
A BPC Small Group is an intentional gathering of no more than 12 people who meet on a. regular basis for the purpose of growing in faith, Christian fellowship and discussing God's Word. Some groups are short-term and others have been ongoing for many years. A successful group encourages the regular attendance and active participation of its members resulting in spiritual growth wherever one is on their faith journey.
Anyone interested in joining a small group is encouraged to speak to members of our Small Groups Committee, Jack Gregory, Chris Morrow, Karen Solheim, Pam Taylor, or Bob Inadomi via email: rbjn@aol.com.
.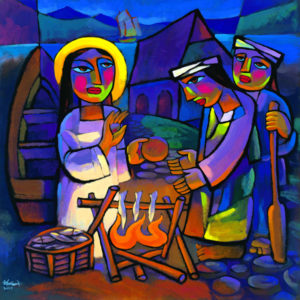 Take this opportunity to grow in Christ with others by joining a
small group for the season on Lent.
Reflections For The Lenten Journey
February 27th – April 2nd,
In "Jesus, Friend of My Soul", bestselling author and beloved retreat leader Joyce Rupp guides us from Ash Wednesday through Easter Sunday, illustrating both how Jesus called his followers to change and how his actions provide us a blueprint for growth.
March 1 to April 5 at 9:15 AM

The subject matter will be from the book written by Lee Strobel,

"The Case For Christ".