Our Team
Click on name for email address.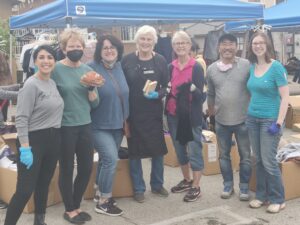 DIRECTOR CHILDREN & YOUTH
MARY GARBESI
DIRECTOR CONGREGATIONAL CARE
GRETCHEN GREENWOOD
DIRECTOR OF FACILITIES AND PERSONNEL
WELCOME LETTER FROM PASTOR DAVE
Dear Friends:
In these confusing and unsettling days we are finding that the comfort, strength and mercy of God's Spirit is centering us in a way that helps us to stand up and face this moment with grace and resolve. We would love to invite you join us for our 8 AM in person worship or 10:30 AM in person worship and virtual worship on Facebook, YouTube or the BPC website and to sign up here (
info@bpcusa.org
) for our weekly email with all our mission, fellowship and small group offerings.
Whatever your past spiritual or church experience, we want you to know there is a place for you here. At our church, you will NOT find a pretentious cadre of holier-than-thou, sanctified saints, but a motley crew of fellow strugglers simply doing their best to allow God to love and heal them so that they can go out and love and serve this precious world God created and adores.
Jesus said, "I have come that they might have life and have it to the full."
Discovering this full life lies at the heart of our mission and passion.
We would love nothing more than to welcome you through our doors, immerse you in worship, facilitate the exploration of your faith, and connect you to the community, so that you might discover your God-given calling in life; that place where your great passion intersects with God's great need.
Love,
Dave
BRENTWOOD PRESBYTERIAN CHURCH
2021 ANNUAL REPORT
PRESENTED TO THE CONGREGATION AT THE
ANNUAL MEETING ON 2/26/2023