On-Going Mission Opportunities
WAYS TO SERVE THE CHURCH AND THE WORLD
DURING COVID 19 SAFE AT HOME DAYS
ANGEL STORE DECEMBER 5 & 12
The ANGEL STORE is coming!
The annual mission event and alternative gift market
where you can purchase gifts that help others!
SUNDAY, DECEMBER 5
Angel Store Gift Cards
9:00 AM – 12:30 PM in Room 121
SUNDAY, DECEMBER 12
The Gift Cards & 10,000 Villages
9:00 AM – 12:30 PM in Fellow Ship Hall

The Giving Spirit will again be at BPC with limited opportunities to volunteer from December 3 – 12. More info to come!
The Giving Spirit provides immediate aid and a human connection to homeless lives — men, women, children and families in Greater Los Angeles. We also educate volunteers and communities about the human face of homelessness with the goal of recognizing that homelessness does not mean hopelessness and lives can be transformed and housing challenges resolved through community awareness and action.
COMMUNITY FOOD BANK
UNITED UNIVERSITY CHURCH | HOPE ON UNION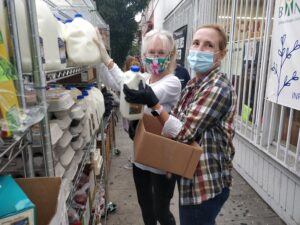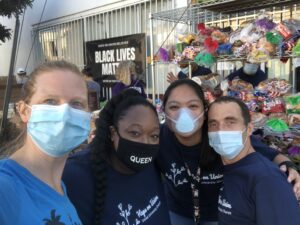 Volunteer

Thursday mornings from 7-10 AM
United University Church, 1053 W 23rd St, Los Angeles, CA 90007
Safety protocols are followed (wear a mask, they provide gloves).
NOTE:
The Hope on Union Food Bank will be closed on November 25, December 23 & 30.

Join Music Mends Minds weekly Zoom gatherings. Hear music, make music with other seniors and caregivers suffering from the life diminishing effects of dementia, Alzheimer's and brain injuries. Invite your friends to join on Zoom! It's fun and it's free.
Our Zoom sessions have a new start time. Starting on Monday, August 16, our Zoom sessions will move to 11:30 AM – 12:30 PM every Monday, Wednesday and Friday.
Meeting ID: 637 887 7508

AMNESTY INTERNATIONAL
Join Amnesty International's work: End Twitter suspension in Nigeria.
BLUEFIELDS NICARAGUA FARMS
BPC has been in a covenant partnership for over 20 years with a group of pastors (called APASUR) and their churches from Bluefields, Nicaragua. Over the past few months, Pastor Lora, Steve Ruth and Tom Elander have been participating in monthly Zoom calls with some of the APASUR pastors. Many have contracted COVID-19, including some of the pastors, their family members and their congregants. Many have been very ill and there have been some deaths.
The pastors of APASUR are addressing the most basic needs of the people in their community – growing crops to provide food and/or financial independence. The photo below is the APASUR pastors on one of the parcels of land that is being developed for food production. Please join us in praying for our Nicaragua siblings in Christ!
2021 In-Kind

Donation

Opportunities
– Household items in good shape. P

lease contact Lucia Mendez
To subscribe to the weekly BPC Mission Calendar, contact Margaret Chock, mchock@mibchock.com