On-Going Mission Opportunities
WAYS TO SERVE THE CHURCH AND THE WORLD
DURING COVID 19 SAFE AT HOME DAYS

Good news!
As you may know, there has been an opportunity for BPC to participate on a Habitat for Humanity (HfH) work day on Saturday, October 16. The team and two alternates are in place and eagerly waiting for that day to arrive! This one day event will be working on two houses for families who would otherwise never have an opportunity to own their own home.
Founded in 1976, Habitat for Humanity (HfH) is a leader in addressing the issues of poor housing conditions. Since 1990, HfH of Greater Los Angeles has built, rehabilitated, or repaired over 1,000 homes in neighborhoods all across Los Angeles County. HfH transforms lives, inspires neighborhoods to improve, and strengthens communities. Our BPC church family has been involved with the HfH builds for well over 20 years.
The BPC Mission Team will have additional workdays in the future and we look forward to having you participating at that time!
SACK MEALS FOR SAMOSHEL
Thanks to Sandy Kim for coordinating the volunteers who help put sack lunches together for SaMoShel, and to Wynn Rees for dropping them off last September 26.
The next opportunity to help is Sunday, October 31st, right after worship in Fellowship Hall. Please email Sandy Kim to sign up: skim_25@yahoo.com
Purpose of the Sack Meals:
The Santa Monica Shelter Out-Reach team gives them to homeless encampment residents and encourage them to visit the SaMoShel for additional help.
All staff, volunteers, customers, and donors (vaccinated or unvaccinated) will need to wear a mask.
COMMUNITY FOOD BANK
UNITED UNIVERSITY CHURCH | HOPE ON UNION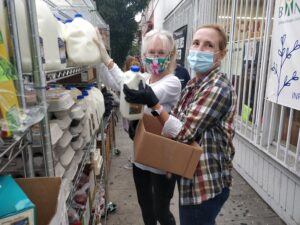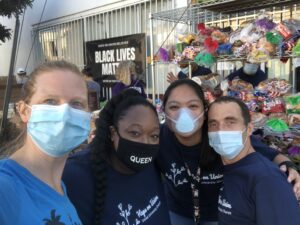 Volunteer

Thursday mornings from 7-10 AM
United University Church, 1053 W 23rd St, Los Angeles, CA 90007
Safety protocols are followed (wear a mask, they provide gloves).

Join Music Mends Minds weekly Zoom gatherings. Hear music, make music with other seniors and caregivers suffering from the life diminishing effects of dementia, Alzheimer's and brain injuries. Invite your friends to join on Zoom! It's fun and it's free.
Our Zoom sessions have a new start time. Starting on Monday, August 16, our Zoom sessions will move to 11:30 AM – 12:30 PM every Monday, Wednesday and Friday.
Meeting ID: 637 887 7508

AMNESTY INTERNATIONAL
Join Amnesty International's work: Ask the Chechen authorities: What Happened to Salman Tepsurkaev?
BLUEFIELDS NICARAGUA FARMS
BPC has been in a covenant partnership for over 20 years with a group of pastors (called APASUR) and their churches from Bluefields, Nicaragua. Over the past few months, Pastor Lora, Steve Ruth and Tom Elander have been participating in monthly Zoom calls with some of the APASUR pastors. Many have contracted COVID-19, including some of the pastors, their family members and their congregants. Many have been very ill and there have been some deaths.
The pastors of APASUR are addressing the most basic needs of the people in their community – growing crops to provide food and/or financial independence. The photo below is the APASUR pastors on one of the parcels of land that is being developed for food production. Please join us in praying for our Nicaragua siblings in Christ!
2021 In-Kind

Donation

Opportunities
– Household items in good shape. P

lease contact Lucia Mendez
To subscribe to the weekly BPC Mission Calendar, contact Margaret Chock, mchock@mibchock.com