On-Going Mission Opportunities
WAYS TO SERVE THE CHURCH AND THE WORLD
DURING COVID 19 SAFE AT HOME DAYS
The
Deacons
and
Mission
Team
are joining forces to create a
letter writing campaign
for our neighbors down the street at the
California Veterans Home of Los Angeles
.
TO PARTICIPATE:
Please write a letter or note to a veteran – because of privacy rules we will not be able to provide details such as names or genders, so please make sure you write a letter anyone would be blessed to receive

Place your written letters in the yellow box outside the church or bring it with you to drive up communion next week so that we can deliver the letters to the VA staff.
INSTRUCTIONS:
You may either make cards (like we do for the Giving Spirit) or buy a card.

Please do not put cards into envelopes and rather fold them

Please write "TO BE DELIVERED TO A VETERAN AT THE CAL VET HOME OF LA" on the front of the car
ONE GREAT HOUR OF SHARING
OGHS is one of four special offerings received each year.
50% will go to the Amor Ministries – building houses in Mexico
50% will go to the Presbyterian Disaster Assistance, the Presbyterian Hunger Program and Self-Development of People – all work in different ways to service individuals and communities in need.
VOLUNTEER OPPORTUNITY
COMMUNITY FOOD BANK
UNITED UNIVERSITY CHURCH | HOPE ON UNION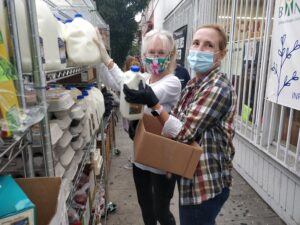 Volunteer at the Hope on Union Food Bank
Thursday mornings from 7-10 AM
United University Church
1053 W 23rd St, Los Angeles, CA 90007
Safety protocols are followed
(wear a mask, they provide gloves).
Email Pastor Lora with questions
ERRAND ANGELS
During this difficult season, we want to ensure that all of our BPC families are cared for and sustained. If you need assistance with running errands, picking up prescriptions, grocery delivery, or picking up takeout, please let us know! We have assembled a group of BPC volunteers who are willing and able to help out.
and we will connect you to a volunteer to assist you.
Let us continue to support one another and be the church together.

AMNESTY INTERNATIONAL
Join Amnesty International's work:
Stand with the Russian journalist Elena Milashina.
BLUEFIELDS NICARAGUA FARMS
BPC has been in a covenant partnership for over 20 years with a group of pastors (called APASUR) and their churches from Bluefields, Nicaragua. Over the past few months, Pastor Lora, Steve Ruth and Tom Elander have been participating in monthly Zoom calls with some of the APASUR pastors. Many have contracted COVID-19, including some of the pastors, their family members and their congregants. Many have been very ill and there have been some deaths.
The pastors of APASUR are addressing the most basic needs of the people in their community – growing crops to provide food and/or financial independence. The photo below is the APASUR pastors on one of the parcels of land that is being developed for food production. Please join us in praying for our Nicaragua siblings in Christ!
2021 In-Kind

Donation

Opportunities
– Household items in good shape. P

lease contact Lucia Mendez
To subscribe to the weekly BPC Mission Calendar, contact Margaret Chock, mchock@mibchock.com