On-Going Mission Opportunities
WAYS TO SERVE THE CHURCH AND THE WORLD
DURING COVID 19 SAFE AT HOME DAYS
This January, BPC is partnering with
Safe Place for Youth
to provide unhoused youth (ages 12-25) here in our community much needed materials. We will be collecting New Men's and Women's Underwear (M-XXL), New Warm Blankets, and Lightly-Used, Stain-Free Interview Clothing and Towels. You can bring donations to the church any time we are open in the month of January or you can go online to SPY's donation website and have it sent to the church (12000 San Vicente Blvd., Los Angeles, CA 90049).
Thank you for your generosity this season in helping vulnerable youth in our community.
This form

can be used as an in-kind donation receipt for your records.
PRESBYTERIAN DISASTER ASSISTANCE

As night fell on December 10, powerful tornadoes ripped across several states, ending the lives of more than 100 people and wreaking devastation across many communities by morning. In the wake of these catastrophic storms, it is the role of people of faith to shine a light in this bleakest of winters. We are called to be the hands of God to help rebuild the lives of those who have experienced significant loss. We are invited to stand with them — and to stand together — bearing witness by our gifts and prayers that God is indeed incarnate among us.
If you are looking for the best way to make a real and immediate difference to assist the victims of the recent tornadoes, we invite you to send a check to BPC with "PDA" in the memo, or
CLICK HERE
PRAY: As we learn of another natural disaster, we pray. For those experiencing loss, may they feel comfort only your Holy Spirit can bring. We pray for wisdom and strength as they work to restore and repair their communities. May we heed your call, Oh God, to be co-creators with you in the caring of creation. May the hope, peace, and love of the Christ child comfort and keep us all. (Written by Rev. Dr. Diane Moffett, President and Executive Director, Presbyterian Mission Agency)
COMMUNITY FOOD BANK
UNITED UNIVERSITY CHURCH | HOPE ON UNION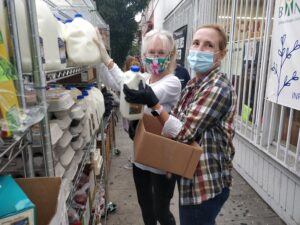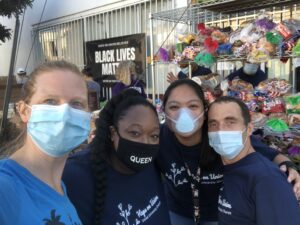 Volunteer

Thursday mornings from 7-10 AM
United University Church, 1053 W 23rd St, Los Angeles, CA 90007
Safety protocols are followed (wear a mask, they provide gloves).
NOTE:
The Hope on Union Food Bank will reopen on Thursday, January 6, 2022.

Join Music Mends Minds weekly Zoom gatherings. Hear music, make music with other seniors and caregivers suffering from the life diminishing effects of dementia, Alzheimer's and brain injuries. Invite your friends to join on Zoom! It's fun and it's free.
Our Zoom sessions have a new start time. Zoom sessions are at 11:30 AM – 12:30 PM every Monday, Wednesday and Friday.
Meeting ID: 637 887 7508

AMNESTY INTERNATIONAL
Join Amnesty International's work:
Demand justice for the death of teenage schoolgirl raped in Nigeria.
BLUEFIELDS NICARAGUA FARMS
BPC has been in a covenant partnership for over 20 years with a group of pastors (called APASUR) and their churches from Bluefields, Nicaragua. Over the past few months, Pastor Lora, Steve Ruth and Tom Elander have been participating in monthly Zoom calls with some of the APASUR pastors. Many have contracted COVID-19, including some of the pastors, their family members and their congregants. Many have been very ill and there have been some deaths.
The pastors of APASUR are addressing the most basic needs of the people in their community – growing crops to provide food and/or financial independence. The photo below is the APASUR pastors on one of the parcels of land that is being developed for food production. Please join us in praying for our Nicaragua siblings in Christ!
2022 In-Kind

Donation

Opportunities
– Household items in good shape. P

lease contact Lucia Mendez
To subscribe to the weekly BPC Mission Calendar, contact Margaret Chock, mchock@mibchock.com