On-Going Mission Opportunities
WAYS TO SERVE THE CHURCH AND THE WORLD
DURING COVID 19 SAFE AT HOME DAYS
SPRING REFUGE DINNER
On June 8, your BPC Mission Team prepared and served a hot dinner for 20 at the Hollywood Presbyterian Church (HPC). HPC normally has a Winter Refuge on their campus each year from January to March and provide a sleeping shelter and hot meals for the neediest of the homeless. This year, due to Covid, the refuge is 24 hours per day and is currently open. The highlight of the evening was the musical entertainment of Rob Hudnut performing his "Singing Saw". This is the third year the BPC Mission Team has participated in the event. Participants were Rob, Wade Huie, and Steve Ruth.
VOLUNTEER OPPORTUNITY
COMMUNITY FOOD BANK
UNITED UNIVERSITY CHURCH | HOPE ON UNION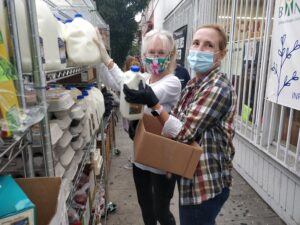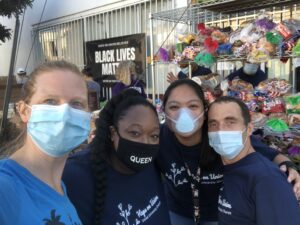 Volunteer at the Hope on Union Food Bank
Thursday mornings from 7-10 AM
United University Church
1053 W 23rd St, Los Angeles, CA 90007
Safety protocols are followed
(wear a mask, they provide gloves).
Email Pastor Lora with questions
ANGELS ON WHEELS
Every once in a while, we need a helping hand – an errand run, prescription picked up, assistance with grocery shopping, perhaps a ride to church or a doctor appointment. Two existing ministries — Deacons Transportation Ministry and Errand Angels — recently merged to become Angels on Wheels. These angels, wearing the skin of BPC members, will do their best to step up and lend that helping hand. If you need an angel's assistance, you can contact Pastor Lora at
lora.east@bpcusa.org
or Mary Garbesi, Director of Congregational Care, at
Mary.Garbesi@bpcusa.org
. And if you'd like to join the Angels on Wheels team, we'd welcome that, too!

AMNESTY INTERNATIONAL
Join Amnesty International's work: The world needs to stand with the people of Myanmar now.
BLUEFIELDS NICARAGUA FARMS
BPC has been in a covenant partnership for over 20 years with a group of pastors (called APASUR) and their churches from Bluefields, Nicaragua. Over the past few months, Pastor Lora, Steve Ruth and Tom Elander have been participating in monthly Zoom calls with some of the APASUR pastors. Many have contracted COVID-19, including some of the pastors, their family members and their congregants. Many have been very ill and there have been some deaths.
The pastors of APASUR are addressing the most basic needs of the people in their community – growing crops to provide food and/or financial independence. The photo below is the APASUR pastors on one of the parcels of land that is being developed for food production. Please join us in praying for our Nicaragua siblings in Christ!
2021 In-Kind

Donation

Opportunities
– Household items in good shape. P

lease contact Lucia Mendez
To subscribe to the weekly BPC Mission Calendar, contact Margaret Chock, mchock@mibchock.com