On-Going Mission Opportunities

The Giving Spirit (TGS)

The Giving Spirit (TGS)
The Giving Spirit assembles and personally delivers survival kits to children, women, and men throughout the streets of
THANKS TO ALL WHO PARTICIPATING IN THE TGS WINTER EVENT.
THANKS TO MAYOR GARCETTI FOR BEING A SUPPORTIVE PART OF TGS THIS YEAR.
Habitat for Humanity 2020
20
BPC has several Habitat for Humanity 2020 volunteer opportunities!
Volunteers will be working at the Culver City construction site.
All opportunities have limitations on participants, so, if you can commit, sign up early.
For more information contact Steve Ruth at sjruth123@gmail.com.
Monthly Mission Opportunities
Saturday Dinners
Cook Saturday Dinners for people without homes.
Cook a meal and serve it at SAMOCHEL.
Contact Sandy Kim at skim_25@yahoo.com for
The next monthly birthday party will be on
My Friend's Place provides life-saving
services to youth without homes and the parties
show that they are truly loved.
Contact Ivan Tether at ivan42mfp@gmail.com
to volunteer.
For more information about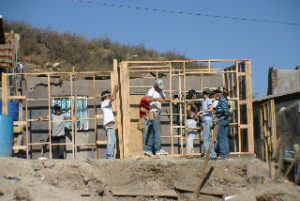 Adult Mexico Build
Work Trip Information
BPC members and friends continue the 34+ year partnership with AMOR Ministries to build housing for hard-working families in the Tijuana/Tecate area.
Adult Mexico Housebuilding Trip 2019
October 12-14
THANKS TO ALL WHO WENT ON THE TRIP!