MISSION FAIR
SUNDAY NOVEMBER 10 @ 9AM & 11:45AM
Join the mission team on the patio for refreshments and conversations about how and when you can serve the community through the various existing and possibly new mission partners.
2019 THANKSGIVING FOOD DRIVE
Than

ks=Giving Food Drive 2019
This year BPC is purchasing the food for Thanksgiving Bags for
us to assemble and distribute on Sunday, November 24.
We need your financial support to accomplish this goal.
One Bag – $40; Half Bag – $20; Quarter Bag – $10; Ten Bags – $400
Purchase as many bags as you can and any donation is appreciated.
Download the Give+ App to donate

or in person with credit card, cash, or check.
Volunteer Opportunities – Families & Teens Welcome!
Saturday, November 23
– 10 AM – Set-up Fellowship Hall and begin

assembly of bags.
Sunday, November 24 after 1st and 2nd Services
–

Complete assembly

and deliver bags.
We are partnering with several local agencies to help the homeless and food insecure population in LA. Thanks for your generosity!
On-Going Mission Opportunities

The Giving Spirit (TGS)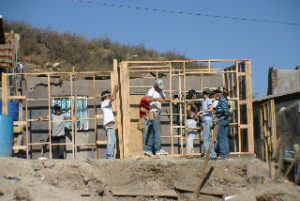 Adult Mexico Build
Work Trip Information
BPC members and friends continue the 34+ year partnership with AMOR Ministries to build housing for hard-working families in the Tijuana/Tecate area.
Adult Mexico Housebuilding Trip 2019
October 12-14
THANKS TO ALL WHO WENT ON THE TRIP!
Habitat for Humanity 2020
20
BPC has several Habitat for Humanity 2020 volunteer opportunities!
Volunteers will be working at the Culver City construction site.
All opportunities have limitations on participants, so, if you can commit, sign up early.
For more information contact Steve Ruth at sjruth123@gmail.com.
Monthly Mission Opportunities
Saturday Dinners
Cook Saturday Dinners for people without homes.
THERE IS NO EVENT IN NOVEMBER
SATURDAY DECEMBER 28, 2:45PM – 5:30PM
Cook a meal and serve it at SAMOCHEL.
Contact Sandy Kim at skim_25@yahoo.com for
The next monthly birthday party will be on
My Friend's Place provides life-saving
services to youth without homes and the parties
show that they are truly loved.
Contact Ivan Tether at ivan42mfp@gmail.com
to volunteer.
For more information about