On-Going Mission Opportunities
WAYS TO SERVE THE CHURCH AND THE WORLD
DURING COVID 19 SAFE AT HOME DAYS
SACK MEALS FOR SAMOSHEL
We need volunteers to assemble sack meals for SaMoShel (SANTA MONICA SHELTER) after the September 26th and October 31st Sunday Worship Services in the Fellowship Hall. Please email Sandy Kim to sign up: skim_25@yahoo.com
Purpose of the Sack Meals:
The Santa Monica Shelter Out-Reach team gives them to homeless encampment residents and encourage them to visit the SaMoShel for additional help.
All staff, volunteers, customers, and donors (vaccinated or unvaccinated) will need to wear a mask.

Hooray!!
We are pleased to announce that Habitat for Humanity (HfH) is back to accepting volunteers on their project sites. Your BPC Mission Team has scheduled an opportunity for us to participate in construction of two new residences in Long Angeles on Saturday, October 16. This one day event will help those two families to build a portion of their homes and change their lives forever!
While only 10 people from BPC will be able to participate due to Covid restrictions, we would also like to have 2-4 alternates in the event one or more need to cancel at the last minute.
Volunteers will need to arrive onsite at 8:00 AM and we will wrap up at 3:30 PM. Carpooling will be available from the church parking lot. Lunch will be from 11:30 AM – 12:30 PM. As in the past, volunteers must be 16 years and older.
HfH will be taking every precaution to keep the build sites safe and healthy during these times. Specifically, here is the HfH latest policy on masks:
All staff, volunteers, customers, and donors (vaccinated or unvaccinated) will need to wear a surgical mask, N95/KN95, or have a 3-ply filter in their cloth mask while working at any Habitat LA office, ReStore or job site. You are allowed to remove your mask only while you are actively eating or drinking.
Please contact Steve Ruth at
sjruth123@gmail.com
to sign up or to get additional information. Thank you!
BPC Responds to Haiti Earthquake
We have all been heartbroken watching the scale of the disaster unfolding in Haiti after this August 14, 7.2 magnitude earthquake that rocked their already beleaguered nation. The quake and its aftershocks have left a current count of 1,900 dead, 99,000 injured and many still missing. At least 13,000 homes have been destroyed and bridges and communication systems have been severely damaged. This catastrophe comes on top of Haiti's ongoing struggles with endemic hunger and poverty, COVID-19, the recent presidential assassination, and continuing civil unrest as Tropical Storm Grace bears down on the region.
Presbyterian Disaster Assistance (PDA) is the highly respected lynch-pin that coordinates emergency response for many churches and denominations around the globe. They are always the first in, and last our, and the most trusted source for immediate, pin-pointed help, when and where it is needed most, as well as long-term support after everyone else has packed up and left. If you are looking for the best way to make a real and immediate difference in Haiti, we invite you to send a check to BPC with "Haiti PDA" in the memo. Your gift is tax-deductible and your response will be felt immediately. We thank God for this church and know that is is moments like this that the BPC family shines the brightest.
or use the GivePlus App.
VOLUNTEER OPPORTUNITY
COMMUNITY FOOD BANK
UNITED UNIVERSITY CHURCH | HOPE ON UNION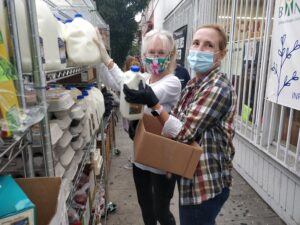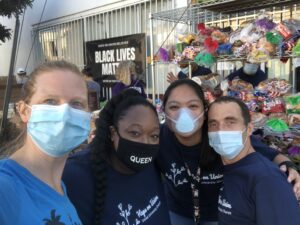 Volunteer at the Hope on Union Food Bank
Thursday mornings from 7-10 AM
United University Church, 1053 W 23rd St, Los Angeles, CA 90007
Safety protocols are followed (wear a mask, they provide gloves).

Join Music Mends Minds weekly Zoom gatherings. Hear music, make music with other seniors and caregivers suffering from the life diminishing effects of dementia, Alzheimer's and brain injuries. Invite your friends to join on Zoom! It's fun and it's free.
Our Zoom sessions have a new start time. Starting on Monday, August 16, our Zoom sessions will move to 11:30 AM – 12:30 PM every Monday, Wednesday and Friday.
Meeting ID: 637 887 7508

AMNESTY INTERNATIONAL
Join Amnesty International's work: Release Hirak detainees in Algeria.
BLUEFIELDS NICARAGUA FARMS
BPC has been in a covenant partnership for over 20 years with a group of pastors (called APASUR) and their churches from Bluefields, Nicaragua. Over the past few months, Pastor Lora, Steve Ruth and Tom Elander have been participating in monthly Zoom calls with some of the APASUR pastors. Many have contracted COVID-19, including some of the pastors, their family members and their congregants. Many have been very ill and there have been some deaths.
The pastors of APASUR are addressing the most basic needs of the people in their community – growing crops to provide food and/or financial independence. The photo below is the APASUR pastors on one of the parcels of land that is being developed for food production. Please join us in praying for our Nicaragua siblings in Christ!
2021 In-Kind

Donation

Opportunities
– Household items in good shape. P

lease contact Lucia Mendez
To subscribe to the weekly BPC Mission Calendar, contact Margaret Chock, mchock@mibchock.com