SPIRITUAL GIFTS INVENTORY
ON-LINE INVENTORY/ASSESSMENT
Discover your spiritual gifts anytime
Take an on-line spiritual gifts inventory and assessment.
A MESSAGE FROM PASTOR DAVE – NOVEMBER 4, 2021
It struck me, watching the images beaming in from this week's COP26 in Glasgow (the UN's Global Summit on the Environment), that just about all our world leaders, at this point, (both conservative and liberal) are acknowledging the precarious state of our environment and our responsibility to try to do something about it for future generations. Various countries, and their respective political parties, may still have disagreements over exactly what can and should be done but our need to start caring for our creation better seems to finally be shared by all. Even the Saudi leaders, donned in their red checkered keffiyeh head scarves, were vigorously nodding in agreement and clapping after each plea to protect planet earth. And while it all brought nothing but joy to my heart, I couldn't help but feel a twinge of sadness that the calls to protect our creation weren't coming most loudly and clearly from the Christian church. Protecting the environment is not a mere matter of self-centered survival for the followers of Jesus Christ but a natural response to caring for the things God created, loves and adores. This Sunday we will be chatting about a uniquely Christian response to the environmental crisis. And if you want to know what any of it has to do with choosing the new James Bond, well, you will have to join us in person or on line to find out!
Love,
Dave
2021 TIME & TALENTS VOLUNTEER FORM
NOW THAT YOU HAVE TAKEN AND COMPLETED THE SPIRITUAL GIFT INVENTORY, WE INVITE YOU TO PRAY AND PONDER HOW YOU CAN USE YOUR GIFTS TO SERVE
IN THE CHURCH.
STEWARDSHIP SERMON SERIES:
WRITTEN
FAITH SHARING STORIES
OCTOBER 31, 2021 | JACK DELL, JR.
DADA. MAMA, BABA, CRAWLING, TITHING were all words that I was introduced to at a very early age. You see, my father was a Nazarene Minister and he and my mother taught me, encouraged me and MADE SURE that I tithed one penny on the ten cents that I received for shinning a pair of shoes in a barbershop owned by a member of our church. Since that time I have understood the importance of TITHING and as I have grown older I have really understood the meaning of STEWARDSHIP. Everything we have is a gift from God and we must be good STEWARDS of all he has given.
There are many reasons I give to BPC. First, in obedience to God's command. This giving is important in my spiritual growth. Additionally, BPC has been my church home for over thirty-five years and it is great to be able to support our local church. This includes our pastors, and all of our additional staff and employees, our facilities, our ministry inside the walls and outside of our walls of our church in the local community and abroad. I also enjoy giving my time and my talents to BPC and working with other members of our church. It is not only rewarding but can be a lot of fun as well. To see the results of honoring God's plan in the giving of our dollars, our time and our talents I get encouraged to give more and do more. We are all so Very Blessed and Very Gifted. I look forward to what God has in store for BPC as we "Recommit" our financial support, our time and our talents. Remember, we can never out give God.
OCTOBER 24, 2021 | AMY BRACHMANN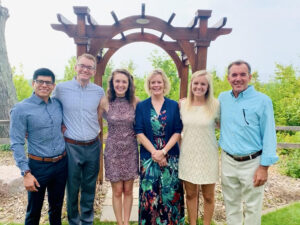 I first found BPC for the music. In fall of 2014, I was new to Los Angeles and seeking a musical outlet. As someone who has been singing, playing instruments and performing nearly my entire life, that was hugely important to me. I visited a few church choirs in west L.A. and found the BPC choir to be fun, warm and engaging from my first visit. It was far and away my favorite of the choirs I visited, and after just a few rehearsals, I knew I had found my place to sing.
But after a few weeks of attending worship services at BPC, I realized I had stumbled on something more. Each week, the services were uplifting and moving. The music was thoughtful and dynamic. The sermons were interesting and thought-provoking, always giving me something to take home and think about during the week. Yes, the choir hooked me initially, but the depth of the worship services is what kept me coming back. Each week after coming to church, I felt grounded, centered, comforted and loved. (Of course, I also started making friends, which never hurts.).
In the seven years that I have been singing and attending at BPC, I have built my life in L.A., a process that has involved navigating ups and downs with jobs, apartments, relationships and more. BPC has given me a place to celebrate my successes and a place to find comfort when I am down, a way to never feel alone on my journey and a way to be part of something larger than myself. Not to mention, BPC has given me a place to sing and play, to express myself, share my talents and do something I love.
I started giving to BPC a few years ago, compelled by my immense gratitude for everything I gain from this church community, as well as my desire to support all the charitable work this church is part of. Through my years at BPC, I have found my awareness of the world, my community and my place in both evolving, and I believe I am a better person today because of this church and the lessons I've learned here. I'm so thrilled to be part of a church committed to making the world a better place, to serving the community and the globe, and I want to do my small part to make sure that continues.
In short, I give to BPC, with my time, my talents and my treasure, but much more than I give, I gain.
OCTOBER 17, 2021 | JENNIFER DEATON
When I was twelve years old, I was given an extraordinary opportunity to go to summer camp – not just any summer camp. Sure, it had canoeing and horseback-riding and all the sporty things. But uniquely, two hours every morning were devoted to the Dynamic Living Seminar. The camp director was an inspiring motivational speaker named Skip Ross. At 12 years old, I was learning how to set goals, how to have balance in life and a proper self-image.
Since I was a camper at Circle A Ranch for the rest of my teenage years, I still know most of the seminar by heart. Among Skip's teachings were the Ten Principles of Success. The first principle is Giving. "Give and You Receive." Skip talked about Giving as a law as sure as the Law of Gravity. By giving, and receiving, you get in on the cycle. We don't give in order to receive;
give with the awareness that somewhere down the line, in some way we may not be able to predict, we will also receive.
At some points in one's life, you must Receive. Whether you are in a time of need or not, you must be willing to accept what is coming your way. Maybe that is where you are now. And you need to let someone do you that favor or bless you in some way or benefit from an unexpected windfall or charity.
Or maybe right now you're like me and you've already Received. When the pandemic hit, my wife and I were both incredibly blessed with good employment. She had been out of work for several months and then got her new job just before the shutdown. She pivoted to working from home without missing a paycheck. My union job as a movie studio script reader was already remote work. We found ourselves in a position to Give.
One wonderful thing about Brentwood Presbyterian Church is that we trust its stewardship of the money we give. We know that every dollar is allocated prayerfully and conscientiously, whether spent internally on the operational workings of the church or externally on the missions we support in the community and beyond. If you find yourself in that part of the Giving Cycle, in a position to share what you've been given, please pledge to BPC or increase your pledge. Wherever you are in the giving cycle, open your arms and be blessed.
OCTOBER 10, 2021 | DREW RUSSELL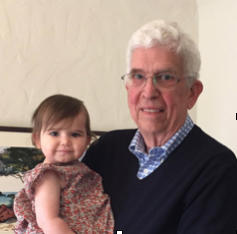 My BPC Family of 40 years
A couple of weeks ago I dutifully updated my church directory profile and there it was: "First attended January 1, 1981". Has it really been 40 years? That date started me thinking about what else in my life has been of such duration and importance. Kathy and I enjoyed a wonderful marriage of 44 years before her untimely death from lung cancer in 2014. Our oldest daughter just turned 48 so the joy of parenthood (X3) and grandparenthood (X6) is on the list. I was blessed with an interesting and rewarding career of 44 years as a faculty member at the UCLA School of Medicine – so add job as well. That's about it. 40 years is a long time. A very short but important "life list" and BPC is on it.
What are the qualities of BPC that led us to join this special family and has nurtured me ever since? How did BPC work its magic to slowly transform my life? From the beginning, BPC encouraged and invited me to donate my time and energy. When pastors like Charles Shields and Dave Carpenter call, it is hard to say no! I served on Session and multiple committees, too many 5-year plans, on the teams that called Lynn Cheney as Associate Pastor and Dave Carpenter as our Pastor. I believe my faith slowly deepened by doing. My awareness of the needs of the community increased. I joined a small group – one of the best decisions I ever made. When recently asked to serve as Clerk of Session, I said yes.
Nine years ago, out of the blue, Kathy was diagnosed with stage-four lung cancer. She received great care at UCLA but 20 months later she was gone. I have shared before how the pastors and BPC family responded. What an outpouring of support and love! Our small groups were key. We were held in the arms of a community in Christ!
Such a gift of support from the BPC family can never be repaid. However, repaid is the wrong concept. God's gifts are unconditional and immeasurable. A better question I ask myself is how can I best support this community to do its work inside and outside our walls? How can I help strengthen this family? In the past, I primarily donated my time. In recent years, I have realized the importance of gradually increasing my financial support. The need is great. COVID has hit hard. The BPC budget is lean and our in-person attendance has dropped. Vital maintenance has been deferred. The strengthening of our online worship and digital campus is vital but expensive. Our staff is priceless and must be supported. I know of no organization where my dollars go farther. After much thought, I plan to increase my pledge. I hope others will join me. It is my best way to support this family which has been so good to me for 40 years and serves so many others with love and grace.
STEWARDSHIP SERMON SERIES: GIFTED
VIDEO FAITH SHARINGS
SUNDAY, OCT. 10, 2021
STEWARDSHIP SUNDAY #1
NORMAN MARSOLAN
SUNDAY, OCT. 17, 2021
STEWARDSHIP SUNDAY #2
SUNDAY, OCT. 24, 2021
STEWARDSHIP SUNDAY #3
SUNDAY, OCT. 31, 2021
STEWARDSHIP SUNDAY #4
STEWARDSHIP SERMON SERIES: GIFTED
SERMONS
SUNDAY, OCT. 10, 2021
STEWARDSHIP SUNDAY #1
REV. DAVE CARPENTER
GIFTED
PSALM 139 & 1 COR. 12:1
SUNDAY, OCT. 17, 2021
STEWARDSHIP SUNDAY #2
REV. LORA EAST
SPIRITUAL GIFTS
1 COR. 12:4-12
SUNDAY, OCT. 24, 2021
STEWARDSHIP SUNDAY #3
REV. DAVE CARPENTER
CROSSING OVER TO THE OTHER SIDE
MATTHEW 8: 14-22
SUNDAY, OCT. 31, 2021
STEWARDSHIP SUNDAY #4
RECOMMITMENT SUNDAY
REV. DAVE CARPENTER
WHAT'S YOUR NEXT STEP?