Congregational Care Team
BPC DEACONS, CONGREGATIONAL CARE TEAM, CHAIN OF PRAYER TEAM,
PASTORS & STAFF ARE CARING FOR YOU,
BLOOD DRIVE RESULTS
Our Blood Drive was a resounding success! We received 38 units of blood. This will help 114 people!
Our goal had only been 24 units, so we way exceeded our expectations.
Thank you all who participated!
SMALL BATTERY RECYCLING PROGRAM
We have began a small battery recycling program. A clear container tube is located between the restrooms on the ground floor across from the office and adjacent to Room 121. The program is intended as a small part of BPC's contribution to a healthy planet. If anyone is interested in assisting the team in transporting the batteries periodically to the UCLA recycling center, please contact Jim Varga at jvargaart@gmail.com.
FLOWERS MINISTRY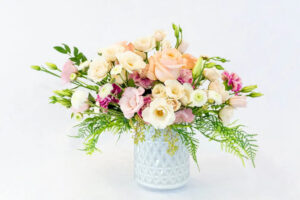 You can sign up on the patio after church service to sponsor our lovely altar flowers! These can be dedicated to someone in your life, or just be a lovely gift of the season. The cost is $80 and our Deacon, Laura Ciaramella, will contact you about two weeks before to remind you and send instructions on exactly what to do. The flowers add so much to our services!!!
Thank you for participating.
ANGELS ON WHEELS
Every once in a while, we need a helping hand – an errand run, prescription picked up, assistance with grocery shopping, perhaps a ride to church or a doctor appointment. Two existing ministries — Deacons Transportation Ministry and Errand Angels — recently merged to become Angels on Wheels. These angels, wearing the skin of BPC members, will do their best to step up and lend that helping hand. If you need an angel's assistance, you can contact Pastor Lora at
lora.east@bpcusa.org
or Mary Garbesi, Director of Congregational Care, at
Mary.Garbesi@bpcusa.org
. And if you'd like to join the Angels on Wheels team, we'd welcome that, too!