SPIRITUAL GIFTS CLASSES
IN-PERSON | ZOOM | ON-LINE INVENTORY/ASSESSMENT
LIST OF SPIRITUAL GIFTS:
Prophecy
Teaching
Helping
Administration
Wisdom
Knowledge
Faith
Discernment
Evangelism
Pastoring
Service
Giving
Encouragement
Leadership
Mercy
Hospitality
Miracles
Healing
Speaking in tongues
Interpretation
Join the class on Sunday in person/or zoom or take the inventory on line.
IN-PERSON/ZOOM
SPIRITUAL GIFTS 2-PART CLASS
Sundays, October 17 & 24
Discover your gifts with others
(details below)
Discover your gifts anytime
Take an on-line spiritual gifts inventory and assessment.
SPIRITUAL GIFTS 2-PART CLASS
Sundays, October 17 & 24
As part of our Stewardship season, BPC is encouraging the entire church to attend a SPIRITUAL GIFT CLASS designed to explore your spiritual gifts as we prepare to recommit our time, talent and treasure to the church together on October 31. During the first class you identify your gifts by identifying your individual profile. In the second class you explore your profile to determine how you use these gifts.
Sundays, October 17 and October 24, 11:15AM – 12:45PM
All are welcome (member or not) in person or on zoom
Join Zoom Meeting
https://us02web.zoom.us/j/87968482187
Meeting ID: 879 6848 2187
One tap mobile
+1 669 900 9128
The classes are on the covered patio outside of Room 121.
FOUR WAYS TO RSVP:
1. Email us a

t

info@bpcusa.com

NAME, PHONE NUMBER, and EMAIL ADDRESS and tell us whether you wish to attend IN PERSON or VIA ZOOM.
2. Sign up on the patio after worship.
3. Call the church office between 9AM – 2PM Monday – Friday. 310/826-5656.
2021 TIME & TALENTS VOLUNTEER FORM
STEWARDSHIP SERMON SERIES:
WRITTEN
FAITH SHARING STORIES
OCTOBER 10, 2021 | DREW RUSSELL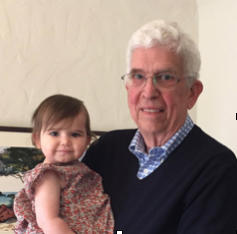 My BPC Family of 40 years
A couple of weeks ago I dutifully updated my church directory profile and there it was: "First attended January 1, 1981". Has it really been 40 years? That date started me thinking about what else in my life has been of such duration and importance. Kathy and I enjoyed a wonderful marriage of 44 years before her untimely death from lung cancer in 2014. Our oldest daughter just turned 48 so the joy of parenthood (X3) and grandparenthood (X6) is on the list. I was blessed with an interesting and rewarding career of 44 years as a faculty member at the UCLA School of Medicine – so add job as well. That's about it. 40 years is a long time. A very short but important "life list" and BPC is on it.
What are the qualities of BPC that led us to join this special family and has nurtured me ever since? How did BPC work its magic to slowly transform my life? From the beginning, BPC encouraged and invited me to donate my time and energy. When pastors like Charles Shields and Dave Carpenter call, it is hard to say no! I served on Session and multiple committees, too many 5-year plans, on the teams that called Lynn Cheney as Associate Pastor and Dave Carpenter as our Pastor. I believe my faith slowly deepened by doing. My awareness of the needs of the community increased. I joined a small group – one of the best decisions I ever made. When recently asked to serve as Clerk of Session, I said yes.
Nine years ago, out of the blue, Kathy was diagnosed with stage-four lung cancer. She received great care at UCLA but 20 months later she was gone. I have shared before how the pastors and BPC family responded. What an outpouring of support and love! Our small groups were key. We were held in the arms of a community in Christ!
Such a gift of support from the BPC family can never be repaid. However, repaid is the wrong concept. God's gifts are unconditional and immeasurable. A better question I ask myself is how can I best support this community to do its work inside and outside our walls? How can I help strengthen this family? In the past, I primarily donated my time. In recent years, I have realized the importance of gradually increasing my financial support. The need is great. COVID has hit hard. The BPC budget is lean and our in-person attendance has dropped. Vital maintenance has been deferred. The strengthening of our online worship and digital campus is vital but expensive. Our staff is priceless and must be supported. I know of no organization where my dollars go farther. After much thought, I plan to increase my pledge. I hope others will join me. It is my best way to support this family which has been so good to me for 40 years and serves so many others with love and grace.
OCTOBER 24, 2021 | AMY BRACHMANN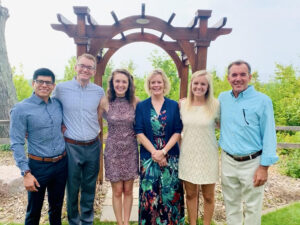 I first found BPC for the music. In fall of 2014, I was new to Los Angeles and seeking a musical outlet. As someone who has been singing, playing instruments and performing nearly my entire life, that was hugely important to me. I visited a few church choirs in west L.A. and found the BPC choir to be fun, warm and engaging from my first visit. It was far and away my favorite of the choirs I visited, and after just a few rehearsals, I knew I had found my place to sing.
But after a few weeks of attending worship services at BPC, I realized I had stumbled on something more. Each week, the services were uplifting and moving. The music was thoughtful and dynamic. The sermons were interesting and thought-provoking, always giving me something to take home and think about during the week. Yes, the choir hooked me initially, but the depth of the worship services is what kept me coming back. Each week after coming to church, I felt grounded, centered, comforted and loved. (Of course, I also started making friends, which never hurts.).
In the seven years that I have been singing and attending at BPC, I have built my life in L.A., a process that has involved navigating ups and downs with jobs, apartments, relationships and more. BPC has given me a place to celebrate my successes and a place to find comfort when I am down, a way to never feel alone on my journey and a way to be part of something larger than myself. Not to mention, BPC has given me a place to sing and play, to express myself, share my talents and do something I love.
I started giving to BPC a few years ago, compelled by my immense gratitude for everything I gain from this church community, as well as my desire to support all the charitable work this church is part of. Through my years at BPC, I have found my awareness of the world, my community and my place in both evolving, and I believe I am a better person today because of this church and the lessons I've learned here. I'm so thrilled to be part of a church committed to making the world a better place, to serving the community and the globe, and I want to do my small part to make sure that continues.
In short, I give to BPC, with my time, my talents and my treasure, but much more than I give, I gain.
STEWARDSHIP SERMON SERIES: GIFTED
VIDEO FAITH SHARINGS
SUNDAY, OCT. 10, 2021
STEWARDSHIP SUNDAY #1
NORMAN MARSOLAN
SUNDAY, OCT. 17, 2021
STEWARDSHIP SUNDAY #2
SUNDAY, OCT. 24, 2021
STEWARDSHIP SUNDA
SUNDAY, OCT. 31, 2021
STEWARDSHIP SUNDAY #4
STEWARDSHIP SERMON SERIES: GIFTED
SERMONS
SUNDAY, OCT. 10, 2021
STEWARDSHIP SUNDAY #1
REV. DAVE CARPENTER
GIFTED
PSALM 139 & 1 COR. 12:1
SUNDAY, OCT. 17, 2021
STEWARDSHIP SUNDAY #2
REV. LORA EAST
1 COR. 12:4-12
SUNDAY, OCT. 24, 2021
STEWARDSHIP SUNDAY #3
REV. DAVE CARPENTER
SUNDAY, OCT. 31, 2021
STEWARDSHIP SUNDAY #4
RECOMMITMENT SUNDAY
REV. DAVE CARPENTER