STEWARDSHIP 2022:
WRITING OUR STORY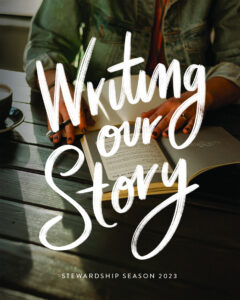 A MESSAGE FROM PASTOR DAVE
OCTOBER 6, 2022
Every one of us is writing a story. It is the epic love story of a life lived, in a brief moment, on center stage. We may not get to choose all the plot twists, challenges and curveballs we will experience but we do get to choose how we will respond; the arc of our character development, the lessons we will learn, the changes we will make, the growth we will experience and the way the final chapter ties it all together. Did we rise to the challenges, trust in a loving and caring God, soak in the lessons and find redemption and peace? Did we become loving and forgiving, content and grateful….and extravagantly GENEROUS? Join us as we launch our stewardship season by exploring what it means to partner with God to write an epic love story worthy of the ages.
Love,
Dave
STEWARDSHIP SERMON SERIES:
WRITING OUR STORY
10-16-22 | REV. LORA EAST | OUR MISSION STORY
10-9-22 | REV. DAVE CARPENTER | WE GET TO WRITE OUR STORY
CARPENTER I OUR MONEY STORY
CARPENTER I WRITING OUR MAGNUM OPUS
FAITH SHARING STORIES:
REASONS WHY WE SUPPORT BPC
OCTOBER 9, 2022 I MAUREEN & NORMAN MARSOLAN
There are many reasons people give their time, talent and treasures at BPC. For us the biggest reason is because BPC is a part of our family. The BPC community opened their arms to us as we made a major move across the country. Our first Sunday we left the 8:00 am service agreeing this could well be our church; we didn't have to look further. We were invited to SCL and quickly became regular attendees. (We brought snacks and were embraced.) We were invited to the "Wine and the Word" on our very first Sunday. We went to Ruthie Jones' home where we met so many of the church family; a wonderful introduction to what was to become our Westside family.
The Church has so many places in which to belong. We found spiritual growth and fellowship in Worship Service as well as in small groups. Maureen volunteered to help with Childrens' Sunday School after helping with VBS, where our grandchildren were warmly welcomed. We have engaged with The Giving Spirit, Hope on Union, and My Friends Place; some of the many ways our BPC family reaches out to the community. We, BPC, are the faces, hands and feet of Christian ministry in our corner of Los Angeles.
As a church we reach deep into our hearts to provide resources needed to make all of these programs possible. Among the membership our wealth is varied; some have time and talent while others may have financial resources to help pay the bills. Norman and I have been blessed beyond measure; we have three loving children and six grandchildren that keep us busy. We are thankful for our extended family and the treasures we have accumulated. We know that not everyone is in the same position but we believe everyone can give to grow their church family. Please consider making a pledge this year of your time, talent and treasures.
OCTOBER 16, 2022 I JOANN & JOHN FLYNN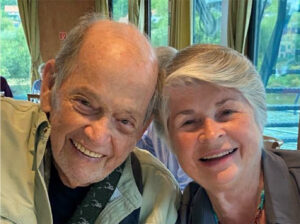 Long before Brentwood Presbyterian Church became our regular Sunday morning destination, it was the venue for a daughter's wedding and the home of John's AA meetings.
The church's policy of attraction; not promotion called to us and we made the trek from the mid-city area on occasional basis to hear Charles Shield's sermons and be embraced by the friendly and welcoming people. Occasionally soon became regularly. Within a few months, we were invited to attend a new member's class and became active members shortly thereafter. We embraced BPC's "worship plus two" spirit of Sunday worship, self-nurturing, and community service.
After a few years, John was invited to join the BPC staff for IT support and after 24 years continues to enjoy that position. I served on the Care Giving Team for three years and enjoy the fellowship while working in the kitchen for our special events. We both belong to small groups which has enriched our lives tremendously. We have enjoyed over thirty years of belonging to a wonderful church with fellowship that keeps our life in balance. We will celebrate our 65th wedding anniversary on October 12th.
There are many reasons we pledge to BPC. God has blessed us with all that we need, and we are lucky to be able to share that good fortune for the work and missions of BPC. This church has a deep, broad, and long history of love and service into this community and the world.
OCTOBER 23, 2022 I OLIVIA SIEGELS-BITETTI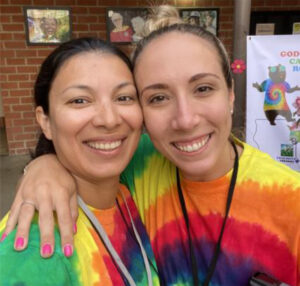 BPC has been an integral part of my life since I was three years old. Our congregation has been a constant source of strength and support throughout my childhood, adolescence, and early adulthood. My brother and I were baptized at a young age and came to church every Sunday with our mom. I attended Sunday School, Youth Group, and choir practice. I performed in plays, attended camps, and worked as a SALT throughout middle school and high school. I made some of my best friends, and many of my happiest memories growing up revolve around my time spent at BPC.In high school, I knew I loved working with children.
The summer before my sophomore year, I asked the Children's Ministry director at the time if I could help out during our weeklong Vacation Bible School (VBS) program. That week of singing songs, growing in faith, and building connections with kids wasn't enough; I knew I had to become more involved. Once the school year began, I started volunteering as an assistant teacher every other Sunday in the first-grade classroom. I was blessed to be mentored by one of my own Sunday School teachers and eventually, I became a lead teacher. When I was consumed by school and daily sports practices, that 45-minute stretch of time on Sunday morning became the highlight of my week.
When it was time to decide on a career path in college, I knew that whatever path I chose, I wanted to work with children. Now, in my eighth year of teaching kindergarten, I can confidently say that my love of teaching was inspired by my work as a Sunday School teacher at BPC. The profound impact that our church and its congregants have had on my life is immeasurable. I have been so blessed by the love, support, mentorship, and friendship I have encountered within this community.
Now, as I move into my thirties, BPC has once again grown with me as I have had the privilege to join our Young Adult Ministry. Being a part of this group has allowed me to reconnect with old friends and make new friends as well. It has given me a space to laugh, reflect, and pray with others in a small group setting. I give to BPC because I want our wonderful community to continue to be a blessing and an extension of God's love in our city and our world.