Sunday Announcements
Call the church office for more information on any of these announcements.

ADULT MINISTRY OFFERINGS
School of Christian Learning 9:15 – 10:15am The Garden Room
*Sunday, October 21 at 9:15 AM
Overcoming Shame: Let Go of Others' Expectations and Embrace God's Acceptance
*October 26 – 28: Spiritual Life Retreat; Saint Andrew's
Abbey
**No SCL class on October 28
Sunday, November 4 at 9:15 AM
"Israelites and Philistines: While you weren't looking – What has changed?" with Daniel Smith-Christopher in the Garden Room.
Grace & Text Bible Study led by Dr. Charlene Jin Lee
Classes are on Wednesdays, 9:00 – 10:00am, in the Garden Room
Everyone is welcome to Grace & Text, BPC's fall weekday morning Bible Study (6-weeks)! Join a wonderful group on Wednesdays for an engaging study with Dr. Charlene Jin Lee. This week, we continue the study on "Who is Jesus" by examining the contextual nature of Bible reading and understanding: hermetical lens. We will approach Biblical texts and discover grace in listening to the hermetical wisdom of the "Other" while discovering the quality of our own particular lens for reading Scripture. We hope you will be a part of the Fall Bible Study community for its 6-week duration! You are also welcome to join when you can and bring a friend along! Stop by the table on the Patio after worship to sign up, or simply show up!
Book Club at BPC
The BPC Book Group meets once per month, on the 4th Sunday (the next one is on 10/28). We read and discuss fiction, with special attention to acclaimed best-sellers and books that are critically regarded. We do not read self-help or political books. Also, we do not read explicitly religious books, leaving them to the Small Groups program.
The next BPC Book Club meeting is on
October 28, 2018 at 7:00 pm in the Church Library. Our October book is The Trespasser by Tana French. It is a beautifully written psychological mystery about two detectives on the Dublin (Ireland) Murder Squad. They face a complex case made even murkier by police department politics.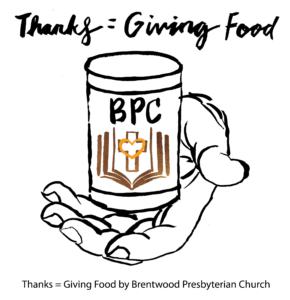 Thanks = Giving Food Drive 2018
This year, BPC is purchasing ALL of the food for 640 Thanksgiving Bags for us to assemble and distribute on Sunday, November 18. We need your financial support to accomplish this goal.
Purchase as many bags of food as you can and any donation in any amount is greatly appreciated.
Help us feed hungry families this Thanksgiving.
Young at Heart Holiday Luncheon
When: Sunday, November 11,
after the second service, approximately at 12:00 Noon.
Cost: is $20/per person.
Sign-ups will be on the patio, October 21, October 28 and November 4.
Adult Mexico Housebuilding Trip
BPC members and friends continue the 34+ year partnership with AMOR Ministries to build housing for hard-working families in the Tijuana/Tecate area. The trip is scheduled for the weekend of November 3-5. If you are interested in learning more about this life-changing service opportunity, sign up on the patio on Sundays; last day to sign up is on Friday, October 26. The Orientation Meeting will be held on Sunday, October 28 from 12:00-1:30 PM in the Garden Room.
Any questions? Contact Steve Ruth or Tom Bagamane.
2018 Fall – BPC Women's Retreat
Saturday, November 3, 2018 at 8:45 AM
"Living in Gratitude" with Rev. Dr. Judy Siker
Join us for this year's Fall 2018 BPC Women's Mini Retreat as we pause in early November to consider how to make gratitude a habit of the heart far beyond the days and celebrations of Thanksgiving.
Habitat for Humanity
build day!
BPC works with Habitat for Humanity on the construction sites to build homes! Volunteers for future builds. There will be more dates coming up.
For questions contact Steve Ruth (562) 412-4646.
Presbyterian Disaster Assistance
The denomination works with local churches to assist in communities. Please give generously.